Deaths
No additional hospital deaths announced today
Test results
Twelve additional positive test results were announced today. Brings the cumulative total up to 11,942.
As forecast, the rate /100k population figure has edged up to 55.08 today. This is still the second lowest infection rate recorded since last September.
The rate is expected to fall to around 50 tomorrow.
Todays total (116) represents an increase of four cases from yesterdays figure (112)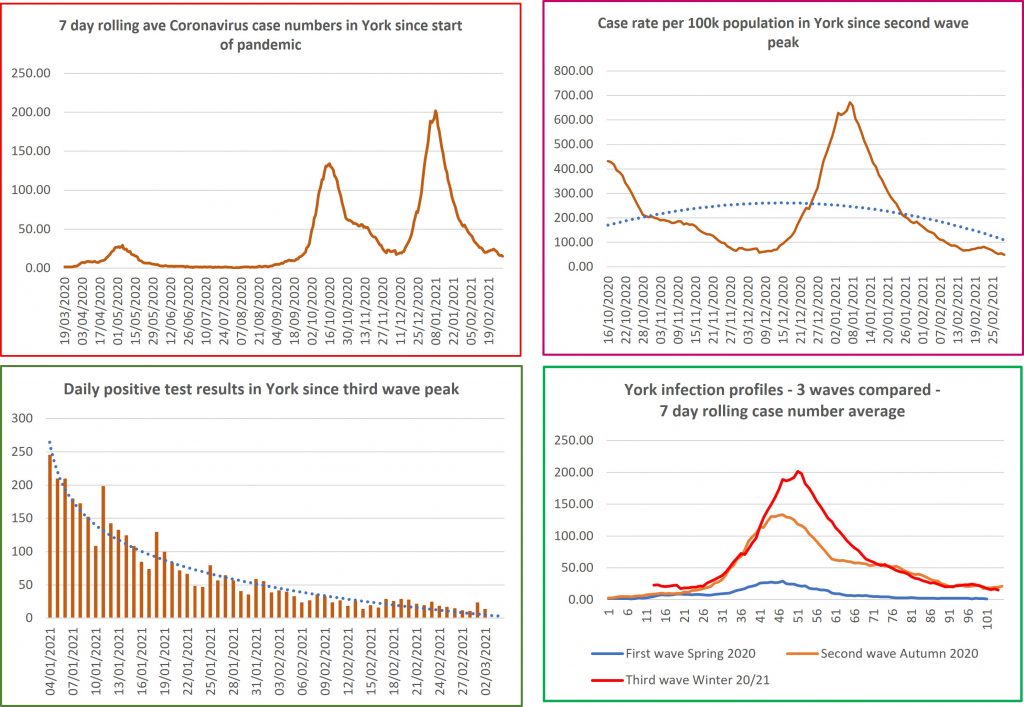 The current weekly case rate number is better than was seen at the end of the second wave in December. The second wave trough was 17.43 (8/12/20). The current equivalent figure is 16.57.
Neighbourhoods
Ten neighbourhoods now have fewer than 3 cases in each
The largest day on day increase in case numbers was in the Clifton Without and Skelton neighbourhood.
There has been a big reduction in cases in North Yorkshire which now has a rate below 50 for the first time this year..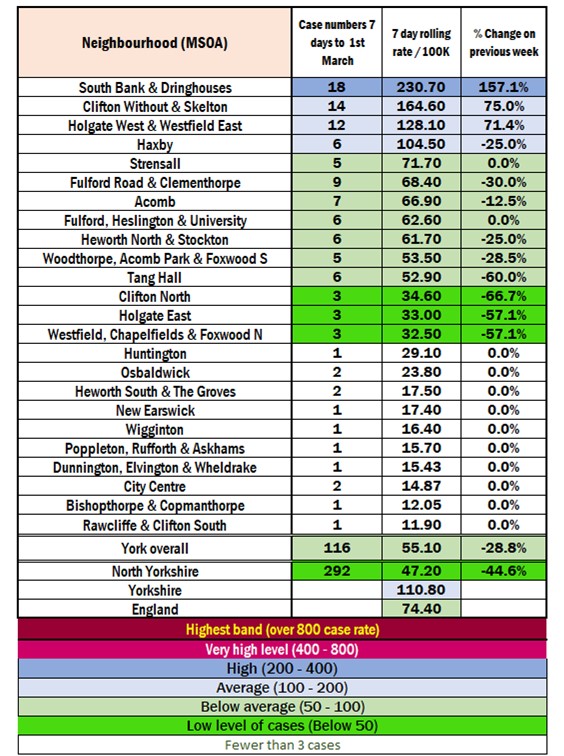 Vaccinations
People aged 56 and over can now book for their first jab. The Askham Bar vaccination centre expects to increase activity next week following an additional supply of vaccines.
All over 50's will be vaccinated by the middle of April.
Tests
4209 PCR tests were conducted in York during the week ending 1st March 2021.
Of these, 2.7% were positive. That was a slight increase on the previous day (2.6%)
3027 "lateral flow" tests were also conducted on 5th March
Tests are available at the Thanet Road Rugby Club car park site on each Monday and Tuesday during March between 9am & 3pm.
Please book a test by visiting: www.nhs.uk/Coronavirus or calling 119 and selecting the option that you were asked to attend by your local council.