We see that local Councillors are taking up issues with minor flooding on roads and footpaths.
Today's poor weather is likely to highlight where the main blockages are.
One resident has used https://www.fixmystreet.com/ to highlight a problem near Lidl.
In some cases the "ponding" results from blocked or damaged drainage gullies.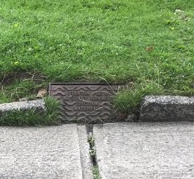 In others, the carriageway has sunk and more extensive repairs may be necessary.
The Council has allocated over £3.5 million for repairs to drainage channels over the next few years. . A Council report published last week said, "It is calculated that more than £8m of investment will be needed over 12 years to address all defective assets on a priority/needs based approach, and the funding included is based on two additional works gangs and materials"
It is not just gullies that are waterlogged.
Several off road paths – including those linking Acomb Wood, Acomb Moor and the Westfield Park off Grange Lane – are obstructed.
The local ward committee has a delegated budget which is available to address problems with cycle and pedestrian routes. We think it should use some of it to ensure that these paths remain usable in wet weather.
Whatever the issue, residents are strongly recommended to report problems to the Council. The sooner work gets into the forward programme the sooner issues will be resolved. https://www.york.gov.uk/reportproblems