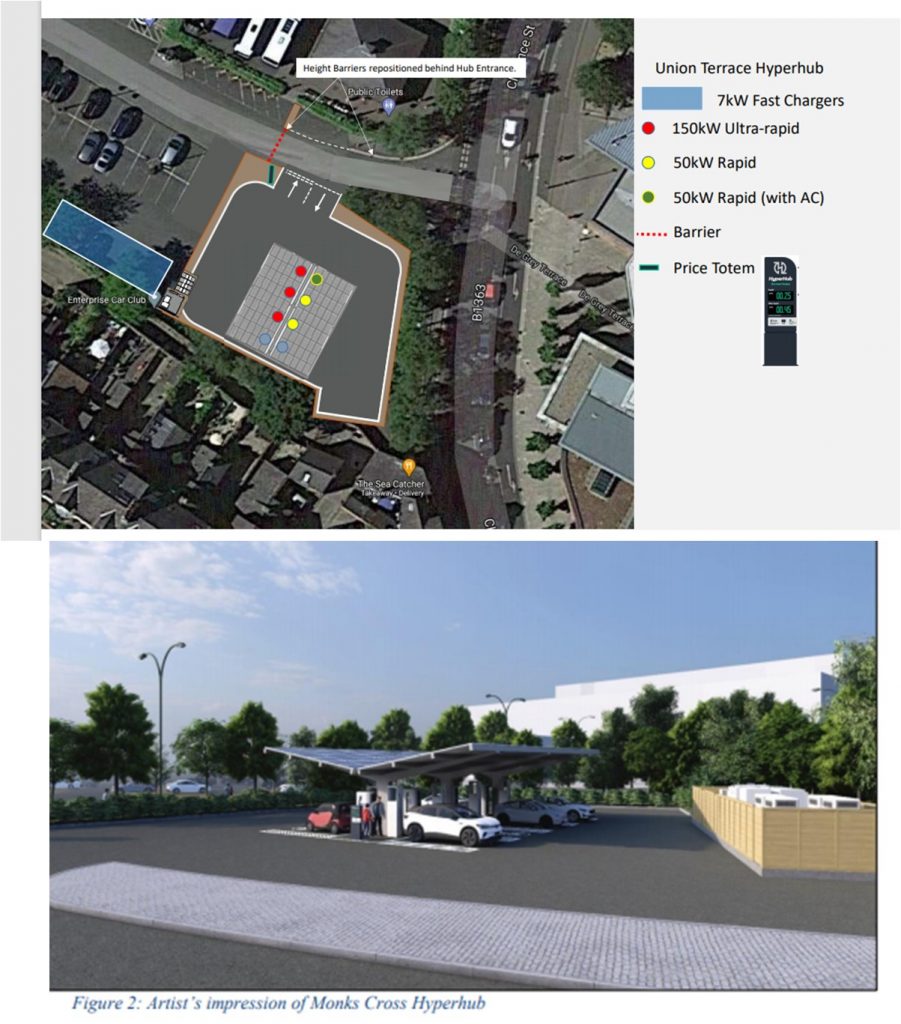 Part of the Union Terrace car park would be converted into an electric vehicle recharging site under Council plans.
Three 50kW Rapid chargers and three 150kW Ultra-Rapid chargers would be installed on a central charging island. Four double headed 7kW Fast charge points would also be installed across 8 parking bays in the main car park, adjacent to the HyperHub.
The proposal, which involve the loss of about 20 ordinary parking spaces, is being discussed next week. It replaces a plan to establish the facility on Bootham Court. This site was subsequently abandoned.
The project is expected to cost £900,000
York's EV charging strategy includes the deployment of Ultra-rapid charging hubs, known as HyperHubs, at strategic locations around the city.  £1.35million funding was awarded by North Yorkshire LEP in June 2020 to develop York's public charging network, of which £550k was allocated for the construction of a 3rd HyperHub located near the city centre.
There are no immediate plans to introduce "on street" charging facilities in terraced areas. These facilities have been provided in several City's making use of the power supply to streetlights or bollards.
Two other HyperHubs are planned, located next to Monks Cross and Poppleton Bar Park & ride sites. An update can be viewed by clicking here
Electric vehicle charging policies received a panning by Which magazine recently
They said that
Accessing public chargers was unnecessarily complicated and that universal access was needed
Disparate rapid charging plugs were confusing
Charging by time was also confusing
As was the many variable charging speeds
Brand specific networks were considered to be unnecessarily
They called on the government to introduce a standardised approach.
The York Council could usefully add its voice to the calls for more regulation.