Deaths
No further COVID-19 deaths at the York hospital were announced today
Test results
Three additional positive test results were announced today. They bring the cumulative case total to 12,201
The number of cases has increased from 63 to 64 today.
The infection rate per 100k population figure has edged up to 30.39 today. However it is now on course to fall below the 25.0 benchmark over the weekend.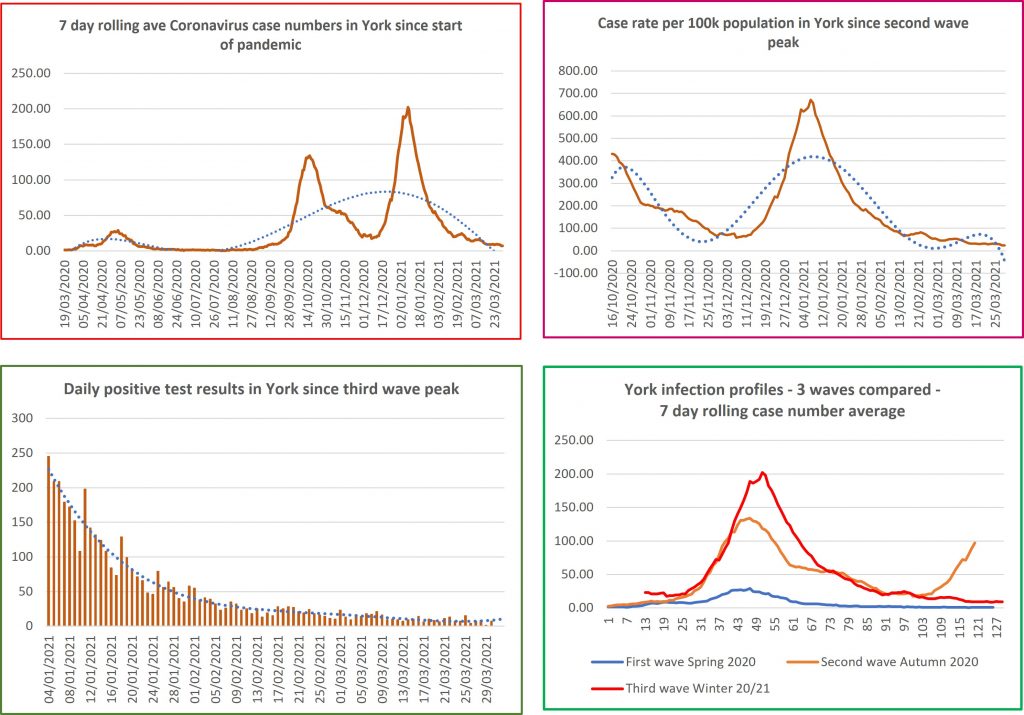 Infection rates at all levels across the country have remained fairly stable today
Neighbourhoods
Little change today at neighbourhood level with most areas now having fewer than 3 cases.
We may next week – if the expected decline in case numbers continues – have to introduce exception reporting (listing only those neighbourhoods with over 3 cases). The government stats feed doesn't list the case numbers by neighbourhood where they are below 3.
Vaccinations
Updated vaccination figures by neighbourhood have been published, They cover the period up to 28th March
As at 30th March 52,9% (92,113) of the City's adult population had received their first vaccination and a further 5.70% (9,857) had been given their second jab
Tests
4429 PCR tests were conducted during the week ending 27th March 2021.
Of these, 1.7% were positive. That is slightly more than the 1.6% found the previous day.
In addition, 2866 "lateral flow" tests were conducted on 31st March 2021
York Hospital Trust COVID-19 patient numbers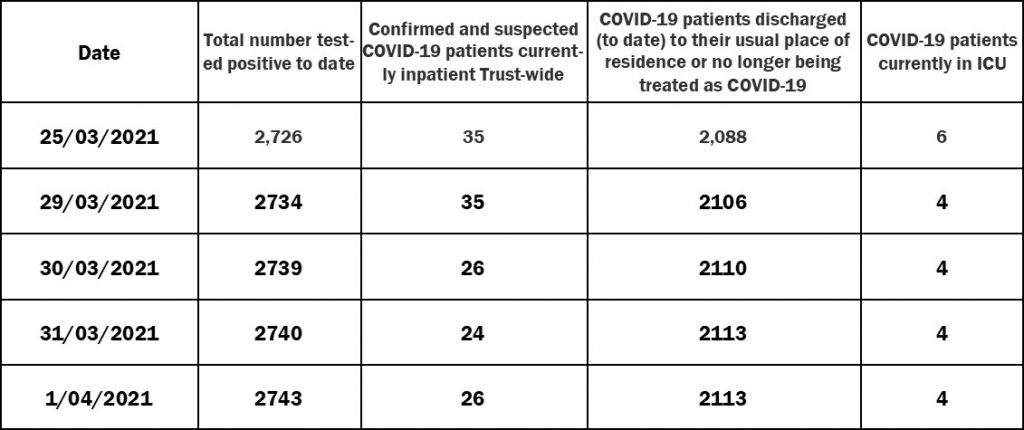 Lockdown eases with mixed results
Good weather over the last couple of days, coupled with an easing of lockdown restrictions, has encouraged people to get out and about.
The golf courses have been busy while beauty spots have also attracted crowds.
However, it has been a mixed picture with anti social behaviour an issue in some parts of the City, litter has accumulated on some parks and fly tipping remains a problem.
The authorities will need to be proactive in managing the next stage of the lockdown exit which is scheduled to take place from 12th April. Any spike in visitor numbers to York could be difficult to control and might prompt an increase in COVID-19 case numbers
Police Covid response:
Plea to be extremely careful this Easter – "We have come too far and made too many sacrifices for this effort to be wasted now"
Chief Inspector Charlotte Bloxham is the silver commander for North Yorkshire Police's response to the pandemic. These are her comments about the past week's (22-28 March 2021) Covid-19 related issues, including details around Step 1 of the Government's Road Map Out Of Lockdown…
From Monday 29 March, as part of the new health protection regulations known as the Steps Regulations, there is no longer any restriction on leaving home without a reasonable excuse. The "stay at home" rule has come to an end.
This means the police's role in helping to tackle the public health crisis has become much more focused on the revised restrictions around indoor and outdoor gatherings.
For indoor gatherings, the regulations remain the same with only members of the same household allowed to be together, subject to some exceptions including support bubbles and providing care.
Our overriding message is that households still must not mix – there remains a high-risk of infection and we must do all we can to avoid community transmission of the virus.
Outdoor gatherings are governed by "the rule of six" or two households, and these can take place in public spaces and in private gardens with social distancing rules remaining in place.
There are a number of exceptions that we have to take into consideration, including the fact that two households may comfortably exceed six people, and that linked-households – for the purposes of providing care and support – only count as one household.
Clearly, the continued "4 Es" approach of the police – to engage with the public, explain the regulations, encourage compliance, and enforce as a last resort – is vital to help our officers and PCSOs determine whether or not there has been a breach of the regulations.
At this stage, restrictions on businesses remain the same. It is expected that these will begin to be relaxed from 12 April, subject to the Government's conditions being met including the continued reduction in infections and the successful roll-out of the vaccination programme. North Yorkshire Police will continue to support our local authority, licensing and trading standards partners to ensure businesses comply with the regulations at each step.
International Travel Restrictions are also in place. This means holidaying abroad is not allowed until at least 17 May when it will be reviewed by the Government. An enhanced fixed penalty notice of £5,000 is linked to this breach.
Travel…
With regards to travelling within the country and county, people must minimize travel to reduce the risk of infection. This will be subject to change as part of the roadmap out of lockdown, but not until 12 April at the earliest.
The Government has not defined a distance that would constitute a breach of the regulations, so it is down to each and every person to make a judgement call about if a journey is absolutely necessary and the risks it poses in the context of the public health crisis that we are still facing.
From a policing point of view, we will keep using the "4 Es" approach to engage, explain the regulations, encourage compliance and enforce if there is blatant disregard to the regulations.
Easter holidays…
When it is safe to do so, we will welcome visitors to the county again. However, everyone can expect to see an increased policing presence as we work alongside our partners to help keep the virus at bay in the weeks and months ahead.
Our plea to everyone this Easter is to be extremely careful and to keep following the regulations until it is safe to resume a more normal way of living – we have come too far and made too many sacrifices for this effort to be wasted now.
Latest enforcement data
During the past seven days (22-28 March 2021) we have issued 170 Fixed Penalty Notices (FPNs) – the previous week's total was 149.
This takes the total to1,980 FPNs during the third lockdown, and3,876 FPNs since the first lockdown on March 2020.
82 were issued to local people and 88 were issued to visitors
80 issued for being outside place of living
11 for outdoor gatherings
76 for indoor gatherings
3 for obstruct/contravene/fail to close business
0 for gathering of more than 15
Broken down into districts, the number of FPNs issues are as follows:
Craven – 0
Hambleton – 20
Harrogate – 23
Richmond – 0
Ryedale – 1
Scarborough – 89
Selby – 3
York – 34
*No notable cases have been brought to our attention this week.