Deaths
FOUR additional deaths have been announced by the York Hospital Trust today. That brings the total since 1st September up to 189, Two fatalities occurred yesterday and two on Sunday.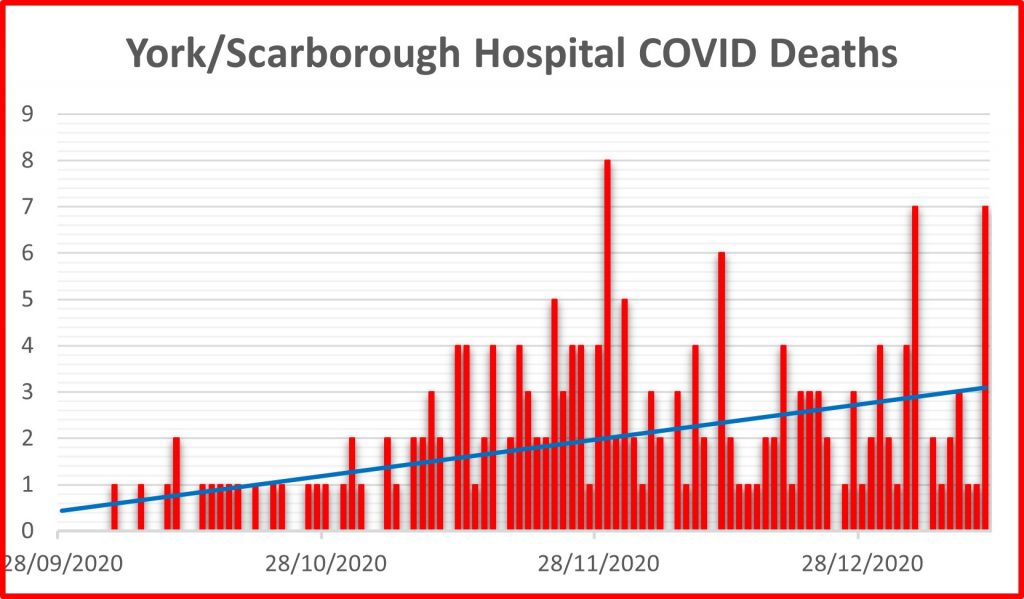 The latest ONS figures, showing the number of deaths of York residents from Coronavirus during the week ending 1st January, have been published.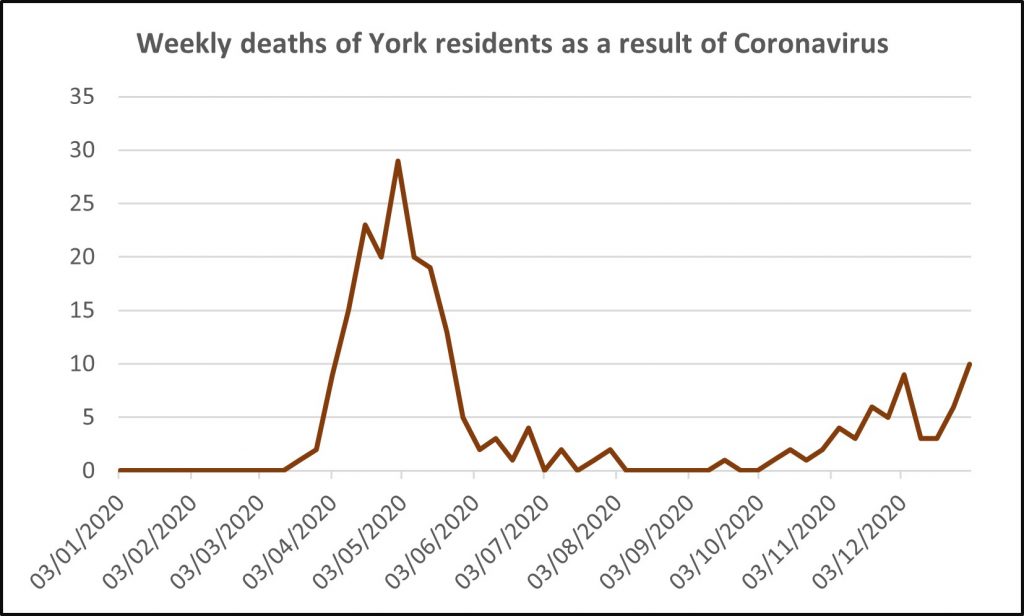 They show 10 fatalities with nine occurring at a hospital and one at home. That is the highest single week number since May.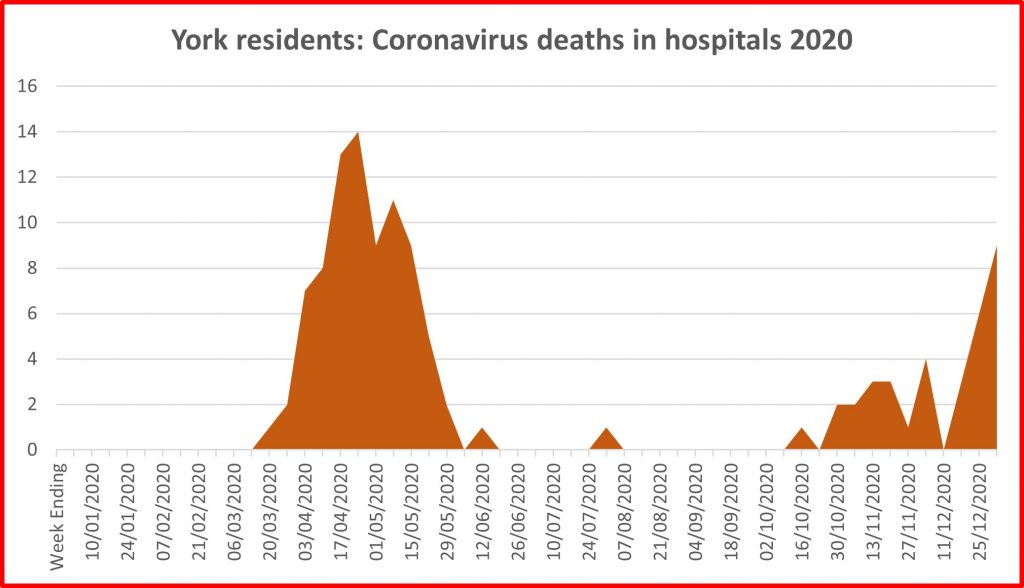 In total, the death toll for York residents has now reached 227 of which 56 have lost their lives since 1st September.
NB. These figures vary from those published by the York Hospital Trust as the latter covers a larger area.
According to the Care Quality Commission an additional death occurred in a York care home on 5th January. That brings the total York care home death toll to 91. Most fatalities occurred in the Spring.
Test results
ONE HUNDRED and FIFTY FOUR (154) additional positive test results announced today. Brings cumulative total to 9239.
Rate /100k population is now 637.37. Will increase to 670.44 before beginning to trend down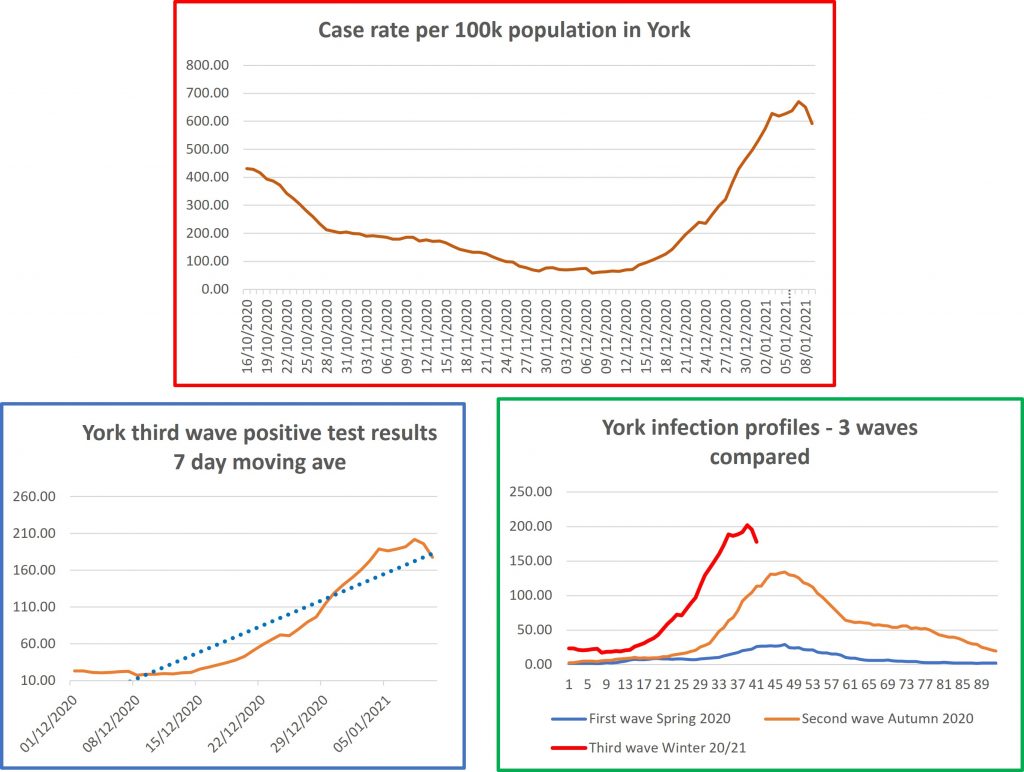 The York infection rate is now above the national, regional and county averages.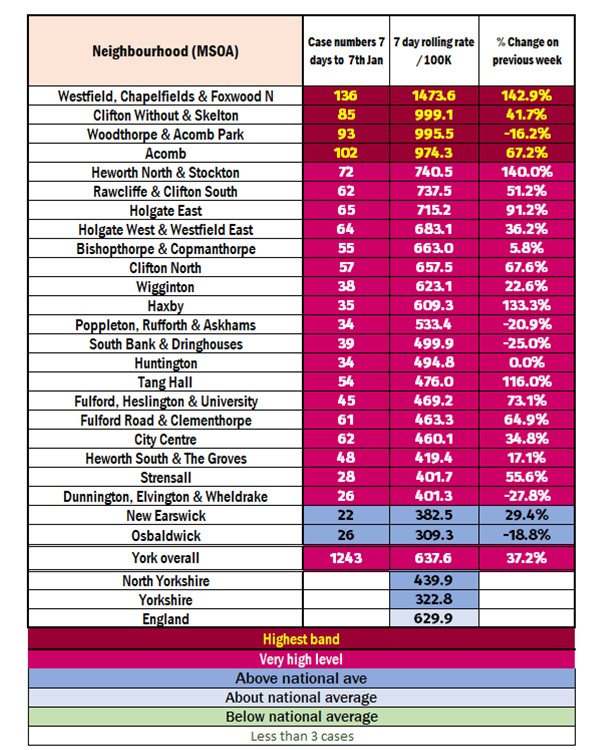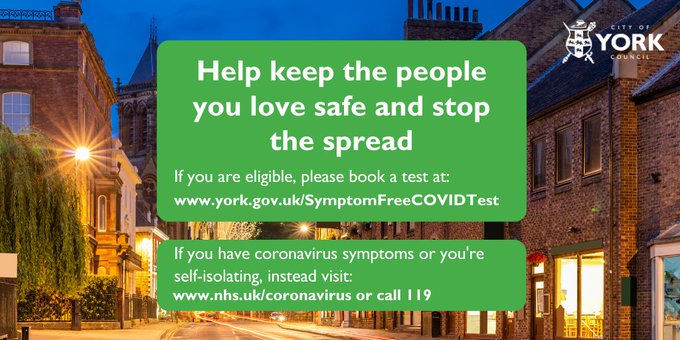 Vaccinations
As of 11th January 1,959,151 people in England had been vaccinated.
No figures for York have been published yet.
City of York Outbreak Management Advisory Board – Wednesday, 13 January 2021 5.30 pm
A meeting of he City's outbreak management board is taking place tomorrow. So far, few background papers have been published to support the agenda
The meetings are normally "webcast"
Agenda
York Minster closed to public. Deans park remains open
York Minster has issued the following statement
We are now closed for public services, private prayer and sightseeing. We will also continue to livestream Sunday services at 11am and 4pm via our YouTube channel, so you can join the services from home.
York Minster has closed to the public from today (Tuesday 12 January) until further notice in response to the Coronavirus pandemic.
The cathedral closed to sightseeing visitors on 31 December when York moved into tier three, but has now also closed for public services and private prayer.
Clergy will continue to offer prayer inside the cathedral on a daily basis and services will be livestreamed on Sundays so people can join worship from their homes.
The Dean of York, The Right Revd Dr Jonathan Frost, said: "We feel this is the right decision in the current climate to keep our staff, volunteers, visitors and congregations safe.
"We will review the decision on a regular basis. In the meantime, our clergy will continue to keep the regular pattern of daily prayer within the cathedral and we will continue to offer worship online so people can join us from the comfort of their own homes."
Members of the public can send a prayer to be said in the cathedral by a member of the clergy by emailing prayer@yorkminster.org.
Dean's Park, the green space to the north of the cathedral, will remain open on a daily basis from 10am to 4pm.
Financial Help
A new Council report reveals the scale of financial concerns in the York community as a result of COVID-19.
The report says that £1.2 million had been used to alleviate hardship by the end of September.
Most went on reducing Council Tax liability. Around 9,000 residents have benefited.
Another £416,729 is being used to support a winter grant scheme. Part of this is being used to fund free school meals during holidays. The grant scheme is open to applications for anyone with savings of less than £2000.
Around 250 applications a week are being received.
The council received £298k in government funding from DHPs for 2020/21 in order to help with housing costs. So far 43% of this budget has been spent.
The numbers in work, but benefiting from on universal credit, almost doubled from 2762 to 5761 between March 2020 and September 2020.
There was a similar rise from claimants not in work.
A lot of work is going into expanding digital access to services. Those who do not currently have "on line" access are at a significant disadvantage during periods of lockdown.
Council tenant arrears stood at £975,943 in April 2020 (similar to the previous year end figure).
Arrears had increased to £1.23 million by the end of December.
The Council partly blames the DWP for the rise, citing bureaucratic hurdles to universal credit changes and staff shortages.
The Council sees the further development of community hubs as part of the long term solution to poverty in the City