"Be Online 2015" at Explore York Libraries and Archives
Free, short workshops for residents to get even more from the internet and its world of information are being offered by Explore York.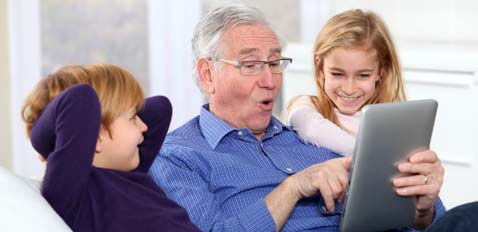 From Monday 23 February to Saturday 7 March 2015, Explore York Libraries  invite residents to 'stay healthy, find work and enjoy life online' with a series of free and informative workshops to help further understanding and enjoyment of the internet.
Be Online 2015 will include free introductions to Twitter, Instagram, Ancestry.com, NHS Choices, eBay, Google and much more.
In partnership with Tinder Foundation/UK Online, libraries across York (except the reading cafés and mobile library) will be hosting at least one session for people of all ages and skill levels. Whether learners know the basics or have never even touched a computer before, these sessions will help widen understanding of how the internet and its applications can truly help enhance and make daily life easier.
To find out more about Be Online 2015, pick up a leaflet from your local library or visit www.exploreyork.org.uk and click on the What's On tab. Bookings for each session can be made at any of the libraries in person, by phone or by calling 01904 552828 and leaving a message. Places are limited so please book early.
Get to Know the Basics of

Digital Imaging

We'll show you how to improve your digital photographs with red eye control, special effects, filters and more.

Explore Acomb Library

, Sat 7 March, 12.30 – 1.30pm
Get Started with S

kype

Find out how to set up a free Skype account to contact friends and family across the world via live video.

Explore Acomb Library

, Mon 23 February, 4.30 – 5.30pm

Twitter for Businesses

Discover how Twitter can help your business grow with this informative taster session.

Explore Acomb Library,

Weds 25 February, 11.00 – Noon Explore Acomb Library, Mon 2 March, 6.00 – 7.00pm
Get to Grips with the Explore

E-Library

Discover the benefits of e-reading with our free and exciting online library.

Explore Acomb Library,

Sat 28 February, 12.30 – 1.30pm Explore York Library, Weds 4 March, 10.00 – 11.00am
Get Stated with

Instagram

Come along and get to grips with the image-based social network.

Explore Acomb Library

, Mon 2 March, 2.00 – 3.00pm
An Introduction to

Shopping Online

Get to know how to shop for bargains and keep safe while shopping on the internet. Poppleton Library, Mon 2 March, 2.30 – 4.00pm

Dringhouses Library

, Thurs 5 March, 3.00 – 5.00pm
Fiona Williams, Chief Executive of Explore York Libraries and Archives, said: "The internet can help us improve our health, search for jobs and complement the many hobbies and pastimes we enjoy. Through these workshops, Explore York Libraries and Archives can give people the support they need when it comes to discovering the digital world."