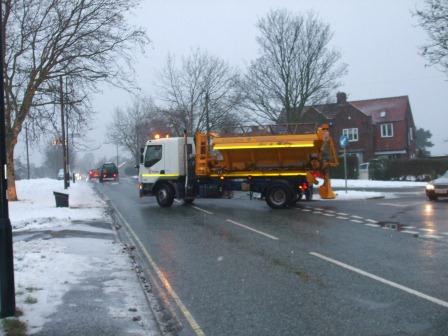 City of York Council's winter maintenance team is inviting residents to find out more about how the council tackles winter weather during a special open event at the council's depot on James Street.
On Saturday 31 October between 10am to 12pm, visitors will get the chance to have a close-up look of the fleet of gritters, snow ploughs and salt spreaders, as well as see the salt barn which is home to over 3,000 tonnes of salt
The open day will provide residents with the opportunity to prepare for the winter months ahead, where frontline teams will be on-hand to offer winter advice.
It also falls on the first 'dry run' weekend of the year, where crews will be carrying out gritting test runs in York ahead of the start of the winter season.
The announcement comes at a time when residents are still waiting to here about the future of their local salt bins.
The last Labour led Council chose to scrap many of these self help bins while others have been left out all year round.
Many have been damaged while others are still full of rubbish.
The Liberal Democrats pledged at the recent election to improve the network of bins so an early announcement of changes was expected.
Throughout the gritting season, between November and March, crews are on-hand to work 24/7 to help keep York's roads open. Last year, crews used 3,927 tonnes of salt over 72 separate 'grit runs' , travelling 43,054 km to treat 71,460km of highway.
Cllr Ian Gillies, Executive Member for Transport and Planning, said: "Our open day will enable residents to hear from the frontline team direct about how the council tackles winter weather to help to keep our roads open 24/7 over the gritting season. We encourage everyone to join us during the open event to help them prepare for the winter months ahead."
. For more information about the winter services in York visit www.york.gov.uk/gritting .Or, follow @YorkGritter on Twitter for regular updates.