A quiet day today in York City centre with locals enjoying the fine weather.
More seating is now available in Parliament Street and this is proving to be popular.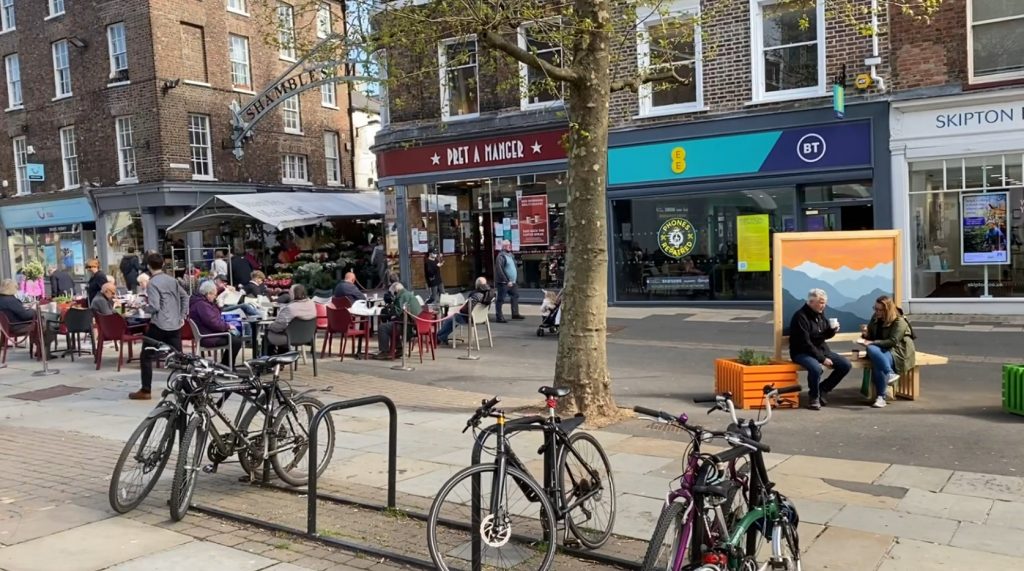 A £60,000 campaign to bring "staycation" visitors to York has also been announced, while the Council has launched a range of transport incentives (see below).
The further easing of restrictions scheduled for Monday may, however, brings its own challenges, with pent up demand likely to test compacity at a time when coronavirus is still prevalent, particularly among younger age groups.
New travel incentives announced
City of York Council have announced a range of parking and travel incentives to encourage residents and visitors back to the city centre to support the city's ongoing economic recovery.
New offers include a discounted resident's Minster Badge for city centre parking, as well as a 50% off All York Family Ticket to launch as step three of the government's Road Map is rolled out next week, from17 May 2021.
Half Price All York Family Ticket
The announcement includes a 50% discount for residents and visitors off the All York Family Ticket. The All York Family Ticket allows unlimited travel for the day, on all bus operators in York, including Park & Ride (excluding tourist and event services such as City Sightseeing and race day shuttles) for 2 adults and up to 3 children. It normally costs £11, but will be discounted to £5.50 under the offer.
Tickets can be bought at the discounted price from 17 May 2021.
With well-established hygiene practices on-board and the maintenance of low COVID-19 cases numbers across York, now is a great time to enjoy the convenience and sustainability of York public transport network. Please follow the on-board guidance and remember hands, face, space when travelling.
Find out more on the iTravel website at https://www.itravelyork.info/allyork
Minster Badge Discount
Residents will be able to apply for a £10 Minster Badge up until the end of March 2022 that lasts for 2 years. The badge gives residents discounts on parking in council car parks and on-street parking bays. The badge also entitles holders to park for free after 5pm in most council car parks – perfect for evening shopping or to enjoy the many excellent hospitality businesses across the city.
Minster Badges can be bought at the discounted price from 17 May 2021.
The discount will come into play as part of the next stage of lockdown restriction easing, at step three of the government's Road Map.
To find out more visit: https://www.york.gov.uk/MinsterBadge
TIER E-Scooter and E-Bikes
With an expanded range of electric vehicles to hire across the city, residents and visitors can enjoy TIER's e-scooters and now e-bikes from almost 40 parking bays across the city.
TIER currently have an active code that enables 5 free unlocks for users of the app: TIERXYORK
Find out more on the iTravel website at https://www.itravelyork.info/e-scooter-trial
Download the app to ride today at www.tier.app
Any questions? Feel free to reach out to the TIER team on +44 151 3174276 or yorksupport@tier.app.