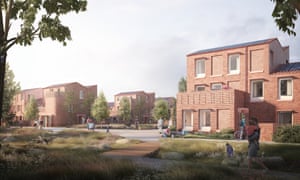 An article in The Guardian has highlighted some of the new housing schemes being progressed by the York Council. It praises new Passivhaus low-energy standard designs. Plans for low energy estates on the Duncombe Barracks and Burnholme sites are being discussed today by the Councils executive.
Unfortunately both the article, and today's Council report, fail to recognise the downsides of this type of building programme.
Two years into the controversial development of the Lowfields site, fewer than half the homes being built in the first phase have been reserved.  Not entirely surprising you might say, with an average size 3 bed semi priced at nearly £300,000. Sure, you can expect lower energy consumption bills but what good is that if you can't afford a mortgage?
Being told that a communal "cargo bike" is available for hire is unlikely to provide much solace
Communications by the Council's own "Shape" development company with neighbours are poor and promised regular bulletins have not materialised.
All six of the "self build" plots on the site have been allocated but we seem to be no closer to seeing the "Yorspace" communal housing group complete the purchase their allocated site. That process has dragged on for nearly 2 years now.  Surely the time has come to use this plot for other purposes – most obviously to extend the space available for self-build units?
There is an element of urgency.
Neighbours were promised that the site would be fully developed within 3 years. The inevitable disruption, noise, dust and mud associated with building works would then come to an end and community cohesion could begin to re-establish itself.
The Council claimed that the neighbourhood in general would benefit from a new "health centre". A police station was mentioned. A new playground would form part of a new "village green". A care home would provide a boost for older people.
None of these seem likely to happen in the foreseeable future.  None are mentioned in the Councils progress report, which limits itself to reporting on progress on Bishopthorpe FC's expensive pavilion which is in part funded from sales at Lowfields. (The pavilion and football pitches are almost complete but the promised improvement work on the adjacent cycle track has not started)
The Council's housing department is leaderless and lacking in direction. Like much of the rest of the authority, responsible Councillors seem to be focussed on the next "photo op".
The hard work involved in forcing up public service standards seems to be of no interest to them.
If it was, then they would ensure that unused council houses – some of which have been empty for months and, in some cases, years – are brought back into use quickly.
But then "Council House Let" is unlikely to be a headline that you will see in The Guardian.