Traffic and parking decisions nodded through at behind closed doors session.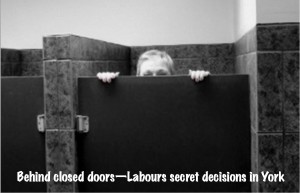 The man responsible for the secrecy was Labour Councillor David Levene.
Over 50 proposals for changes to parking restrictions and other local traffic management measures were decided last week.
Residents had no opportunity to influence the decisions with papers only being published on the Councils web site AFTER the meeting had concluded.
Labour Councillors representing areas like Westfield  failed to make any representations  on the plans which potentially affect dozens of local residents and hundreds of drivers.
This is the kind of secrecy and indifference that should disappear when Labour lose the Westfield by election and with it their Council majority.
The background reports can be read by clicking these links
Skelton Rawcliffe Clifton Without