Deaths and test results
FIVE additional deaths announced by the York Hospital Trust today. Three of these occurred yesterday.
FIFTY (50) additional positive test results have been announced today. That takes the cumulative total to 6070. Some of the positive results have been backdated to November. However 44 positive results were recorded on 15th December – a monthly high.
The rate/100k population has now risen to 69.8. It is expected to rise to 84.0 tomorrow.
The City's case rate – although now increasing – remains below the county, regional and national averages.
Two neighbourhoods are showing fewer than 3 cases in each today. They are Clifton North and New Earswick
The case rate in Poppleton, Rufforth & the Askhams has jumped to 188.3.
New restrictions imposed – Christmas affected
New tier 4 lockdown restrictions have been imposed on the South East of England.
People should not travel into a tier four area, though support bubbles remain unaffected as do the exemptions for separated parents and their children.
For those in tiers one, two and three, rules allowing up to three households to meet will now be limited to Christmas Day only.
Christmas bubbles for those in tiers one to three will not be able include anyone in tier four.
In tier four, people should not mix with anyone outside their own household, apart from support bubbles.
New covid marshalls start to help protect people and places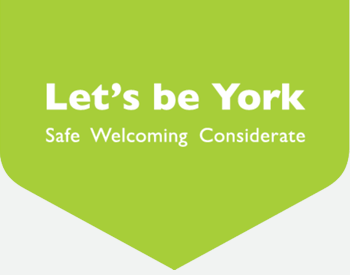 New covid support marshalls are supporting the city's residents, visitors and businesses to maintain covid guidelines and protect the people and places we love.
The new officers will provide advice and help to businesses and people. They will be reminding restauranteurs or licensees about covid guidelines, advising shoppers about face coverings, challenging group sizes or supporting covid-safe queuing to enter busy premises or at bus stops and taxi ranks.
The marshalls will also help discourage people from gathering, including at New Year's Eve when people will be asked to celebrate at home and not linger in town after closing time. They will also be visiting outlying centres of York too, to help local communities and businesses follow the regulations.
Sharon Stoltz, director of public health at City of York Council, said:
"Helping people stay safe has a direct impact on keeping the places we love open.
"These new officers will play a valuable role in supporting us all to socially distance and to support businesses by signposting them to sources of advice on covid infection control measures, licensing, grants and other matters."
All our marshalls will carry City of York Council identification and will never ask for money.
Anyone wishing to report concerns about how the covid regulations are being observed should email public.protection@york.gov.uk.
Book essential food and prescriptions now!
With shopping queues building, online slots being booked and bank holidays approaching, residents are reminded to order essential groceries and prescriptions ahead of festive season.
We have sent residents who are clinically extremely vulnerable, details of the link to LiveWellYork website's list of local food delivers. This was compiled and shared during the first lockdown to support those shielding or self-isolating and is at: www.livewellyork.co.uk/s4s/WhereILive/Council?pageId=5223
Anyone who has repeat prescriptions are asked to check their medication. If they need more to see them through to the new year, please contact their GP.
Cllr Darryl Smalley, Executive Member for Culture, Leisure and Communities, said:
We don't want anyone to find themselves without food or essential medicine over the festive season. So please plan ahead and use the brilliant support networks so many residents have found invaluable over the summer.
"Support for people who urgently need some extra help is still there, but we hope everyone can relax into Christmas and the New Year knowing that they have the essentials they need in advance."
Dr Nigel Wells, NHS Vale of York CCG Clinical Chair, said:
The lead-up to Christmas can be a busy time for the NHS and local health services, so those on repeat prescriptions are advised to order them well in advance so they can enjoy the festive season in good health.
"Having a medicine cabinet at home with some simple over-the-counter remedies like paracetamol, ibuprofen, and anti-diarrhoea tablets is also recommended so you can treat any common illnesses or ailments yourself, without needing to see a GP.
"Many winter illnesses are self-limiting, which means they will clear up on their own so they can be treated at home using over-the-counter products from your local pharmacy."
In an emergency or if you don't have any other support, please email covid19help@york.gov.uk or call 01904 551550.
Symptom-free testing expanded
After the successful launch of targeted symptom-free testing in the city this week the council is now expanding its offer to those who support those who are most at risk from Coronavirus.
Since opening the service on Monday to those who work in retail, leisure and transport hundreds of bookings have been made and the council is thanking those who have been tested so far as part of the city's efforts to slow the spread.
Those who work with, live with or support those most at risk from Coronavirus are now being invited to book their free tests.
Councillor Carol Runciman, Executive Member for Health and Social Care and Chair of the Health and Wellbeing Board visited the testing site to thank staff for their efforts.
Around one in three people who have coronavirus have no symptoms and will be spreading it without realising it. The rapid-turnaround lateral flow tests, which provide results within 1 hour, will be used to proactively test asymptomatic individuals. This will further support the local effort to drive down the city's infection rate.
Symptom-free tests are available to book online by visiting the council website.
Individuals who can't access booking online can call 01904 551 559 to arrange an appointment. The booking line is open from Monday to Friday, 9am to 5pm.
Anyone who has Coronavirus symptoms should not book a symptom free test. They should self-isolate at home, and book a Covid test through the NHS website or calling 119.
The Council is jointly working with York St John University to use Foss Sports Hall on the university's Lord Mayor's Walk Campus for the symptom free testing. The facility was used for their successful testing programme before students returned home for the holiday period.