Deaths and test results
TWO (2) further Coronavirus deaths announced by the York Hospital Trust today. One occurred on Tuesday and one on Thursday. The cumulative second wave death toll now stands at 97 for the York and Scarborough Hospitals
FIFTEEN (15) additional positive test results announced today. Brings cumulative total to 5710.
The case rate /110k population figure has now dropped to 68.3. That means that the rate has halved in little over one week.
There have also been improvements in the figures at county, regional and national levels.
Six neighbourhoods are now virtually virus free. Only 4 cases have been recorded between New Earswick, Rawcliffe, Holgate West, Heworth North, Copmanthorpe and Dunnington
Only seven neighbourhoods are now above the 100 case threshold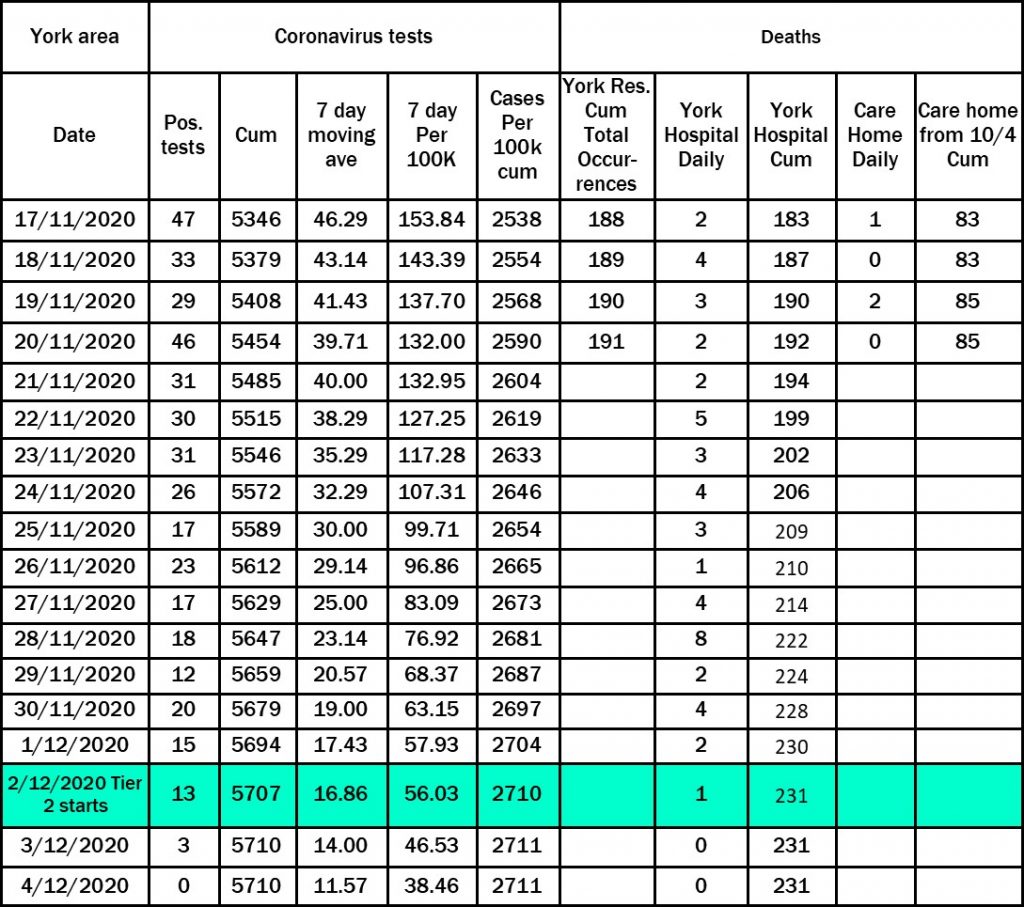 In some neighbourhoods the infection rates are fluctuating quite a lot. This is partly the consequence of only very small variances in the numbers. One area that has seen a significant reduction in cases is Holgate West/Westfield East.
Manor School
ALMOST 100 pupils at Manor school have been told to self isolate after two cases of coronavirus were confirmed.
Manor CE Academy said it was advised by Public Health England yesterday that there was a confirmed case of Covid-19 within the school, and a further case was confirmed this morning.
A total of 96 students have been identified as having direct prolonged contact with the confirmed cases, They have all been contacted and instructed to self-isolate. The school remains open and all other children should continue to attend if they remain well.
York Police go online to listen to public feedback
The officers who keep York city centre residents, businesses and visitors safe are going online to get people's feedback about policing issues.
With COVID-19 reducing the opportunities for officers to meet and talk to members of the public face-to-face, the team is now turning to video call technology to help.
More people than ever are using Zoom, Microsoft Teams, FaceTime and other video calling services to keep up with family, friends and colleagues. And in York city centre, they can now do the same with their local police team.
Sergeant Nick Plumb said: "We're always really keen to listen to your feedback – even when we can't do this in person. If you visit or work in York city centre, and would like to bring an issue to our attention, or ask us any questions about policing, this is a great opportunity to do so."
Inspector Andy Godfrey and Sergeant Nick Plumb will be available online between 5pm and 6.30pm on Tuesday 8 December 2020.
To take part, simply email snayorkcity@northyorkshire.pnn.police.uk. Please include your name, address, and contact phone number, as well as a brief idea of what you want to discuss. (If a number of people have the same concerns as you, you may be able to take part in a joint session).
The video calls will take place over Microsoft Teams – attendees will receive a personal invitation via email, which can be used in any web browser, without having to create an account.
Business grants alerts – time running out
Thousands of York businesses that have missed out on Government grants could, be eligible for an Additional Restrictions Grant – but they have to apply before Monday 7 December.
The council is urging businesses, especially those without rateable premises or that operate earlier in the supply chain, to check if they are eligible for support.
Your business may be eligible if it:
operates from a permanent fixed premises in York, with trade impacted by 75% or more due to lockdown restrictions
doesn't operate from a fixed premises in York, but usually trades in York 75% or more of the time, and you're a York resident
In addition the business must also:
not qualify for the Lockdown Restrictions Grant
have been unable to provide its usual in-person customer service from the business premises
Your business will not be eligible if:
you started trading on or after 5 November 2020
you're able to continue to operate during local or national restrictions, because you don't depend on providing direct, in-person, services from your premises
your business hasn't seen a reduction in income of 75% or more
your business is in administration, insolvent, or has had a striking off notice made against it
you have already been awarded a Lockdown Restrictions Grant
you're not a York resident trading in York for 75% or more of the time
you don't have a fixed business premises in York
you've reached the state aid limit
Businesses that receive 100 percent rate relief are eligible to apply.
Alongside this scheme businesses who already qualified at Tier 2 will continue to get payments on a fortnightly basis (Tier reviews are fortnightly). Any business that has not applied yet for tier 2 but believe they will qualify can make a claim.
Businesses can apply for open grants at www.york.gov.uk/COVID19BusinessGrants
To get notification when grant applications open, and up to date info on other business support, sign up for our regular bulletins here www.york.gov.uk/form/EmailUpdates