It's nearly a year since flooding brought chaos to parts of the York City centre.
Recovery has been slow with visitor numbers down as recently as September (right).
……but there are some encouraging signs.
City centre car parks have been well used this month and particularly over the last few days.
The Castle car park was full again today.
However there is little sign that the York Council has got the message and improved its "on street" and "on line" parking availability information.
Those who do find a space will find that the St Nicholas Fair is busy.
After a poor start, the "Make it York" organisation, working with the "Business Improvement District" (BID) team, have done a better job this year.
There is something for everyone – including traditional children's rides in Kings Square – although not everyone will be impressed by the reliance on alcohol sales in Parliament Street.
Some parts of the city centre are looking run down.
Coney Street – once the most popular shopping street in the City – has more than its fair share of empty properties since BHS closed its doors.
The Council is also guilty of neglecting some of its street furniture and signs.
Here hopefully the Civic Trusts "York Enhancement Fund" will help to redress the balance. We hope that more people will buy Ron Cooke's thought provoking book "Changing the Face of the City" . The proceeds go to improving the City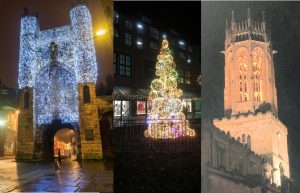 ….and the lighting on the Bar walls has been acclaimed by many visitors this year.
2016 may yet go down as the year when things turned for the better in the York  retail economy