How the Council plans to use extra government transport grant
A secret meeting held today has endorsed a list of transport improvements on which the Council hopes to spend government grant money (Emergency Active Travel grant).
The list does not include any schemes in suburban or village areas, although there have been numerous requests for the Council to improve the maintenance of cycle tracks and to provide additional cycle parking stands on shopping streets. There is very little on the list for pedestrians.
Unfortunately the Council seems prepared to continue the dangerous (for cyclists) carriageway closure on Bishopthorpe Road and will add other contraflow cycle lanes on Coppergate and in The Groves area (Penley's Grove Street).
Traffic counters are also on the Councils shopping list although traffic measurement tools like these have been deployed in the City for over 2 decades.
Ironically cycle improvements are promised on Tadcaster Road. Since the recent resurfacing this is probably the best road for cycling on in the whole of the City (although the off street path near Tesco does need levelling).
Once again there was no prior notice given of the meeting so residents had no opportunity to make representations before the decision was published. It really is about time for the Council to reintroduce at least a semblance of transparency and democracy back into its governance arrangements.
Deaths and positive test results
An additional positive test result was recorded in York on Monday. This brings the cumulative total to 911
There have been no further COVID 19 related deaths at York Trust Hospitals
Disabled parking changes
The York Council is to relax its City centre ban on blue badge parking.
In another "behind closed doors" decision, approval has been given to create "a parking bay on Duncombe Place (at the north west end of the street) allowing parking for Blue Badge holders for up to 3 hours and loading for up to 30mins seven days/week".
The Council is also to investigate and implement additional disabled bays in other on-street areas "where feasible"
The Council has pointedly not revealed how much use has been made of the additional 40 disabled spaces which it laid out at the Monk Bar car park. It appears that the vast majority have remained empty.
The Council has been paying a taxi company to provide a lift service from the car park to Kings Square. It turns out that the cost to taxpayers has been £238 a day although the service has been little used. Now the hours of operation of the service are being extended to 8:00pm increasing the daily cost to £358 a day.
That is more than the Council used to spend on transport tokens which were made available to disabled people. The tokens could be used to purchase a door to door taxi service.
There is still no news of any help from the Council for suburban shopping areas like Front Street. It had been suggested that the relaxation of parking restriction there for blue badge holders could have provided both a boost for local traders plus a more convenient option for those with disabilities.
Bollards
The Council has also revealed that lift out bollards and sockets are to be provided at three locations: Goodramgate (junction with Deangate), Blake Street and Fossgate (junction with Merchantage), at a cost of up to £5,000.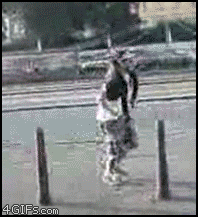 The Council says that these will support the enforcement of access restrictions but not provide "hostile vehicle mitigation".
Staffing costs for manning the access points are put at £4,800 for the first week when all three closures are staffed (approx. £690/day). "They will then reduce to approx. £1,900/week (approx. £280/day)".
On street drinking
The Council has approved the implementation of an "interim pavement café licensing process to enable the hospitality industry to apply for temporary pavement café licences in advance of the Business and Planning Bill being enacted. These temporary licences will be valid for a maximum period of three months after which they will be reviewed and extended for up to a year in line with the requirements set out in the new legislation (not beyond the end of September 2021)"
While allowing outside tables to be provided where space allows seems a sensible step during the current health crisis, the lack of any comment on the implications on alcohol fuelled disorder have not been acknowledged by the Council. It is unclear where, and when, the details of any applications will be published
No tip bookings from Monday
The appointment system, which is currently operating at York's household waste sites like Hazel Court, will be discontinued with effect from Monday
NB. A response to a Freedom of Information request has revealed that the number of appointment requests at Hazel Court have been averaging around 275 a day. At Towthorpe the daily rate has been 214 recently.