Following the unprecedented attack on the Knights rugby club by a Council official, changes are being made to the way in which decisions are taken at the York Council.
Sadly it appears that more are to be delegated to Council officials with the controversial Sarah Tanburn being given powers to decide key transport issues.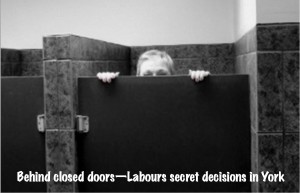 The Council's forward programme has recently been changed to prevent the Cabinet member (Levene) from holding meetings to consider several items including changes to the   Rougier Street Bus "Interchange" (next to Roman House) and the Holgate Road (Iron Bridge to Acomb Road junction) Cycle Scheme
While the Cabinet member decision meetings were far from ideal (single members meetings rarely are) at least agendas were published in advance and residents had the opportunity to comment.
The best that residents can hope for, under the delegated decisions scheme, is for the agenda and decisions to be published on the Councils web site AFTER the meeting has been held.
The Council's constitution hasn't been updated to reflect the reduction in the number of Cabinet members and many believe that the process for appointing them (at the discretion of the Council Leader) has not yet been formally completed.
A recent Urgency committee meeting even failed to make routine changes to Council committee membership.
All in all, the Groups currently represented on the Council need to agree a system which ensures that any decisions which are needed, before the all out election scheduled for May 7th, are taken in an open way and that they reflect the wishes of the York Community.