Bootham/Gillygate
The promised consultation on changes to pedestrian priority arrangements at this junction started this week.
It asks whether changes could be made as part of a plan to modernise the traffic signals at the junction.
The survey can be found by clicking this link
Option1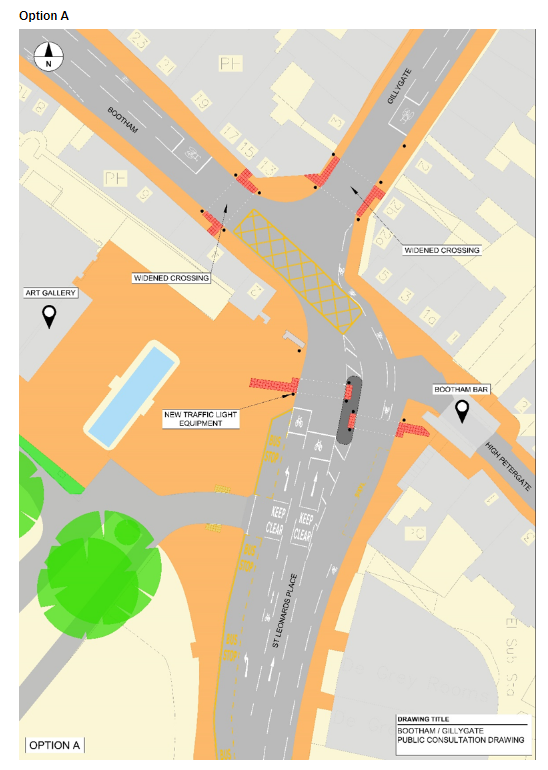 This design replaces all signalling equipment at the junction whilst also making slight improvements for pedestrians crossing the junction. Transport modelling of these revisions indicate that the impact to all vehicular traffic moving through the junction is negligible however the improvements to infrastructure at the site make future upgrades and revisions to operation easier.
* A full replacement of all on site traffic signalling technology
* Pedestrian Crossing width increased to 4 metres on the Bootham arm of the junction

* Pedestrian Crossing width increased to 6 metres on the Gillygate arm of the junction

* Tactile paving on the St Leonards Place arm of the crossing to be realigned meet current design standards.
Option 2
This design looks to reallocate space at the junction from road traffic to pedestrians whilst also replacing the required signalling equipment.
Transport modelling of the redesign indicates that the changes would reduce the capacity of the junction by approximately 30%. This would see significant increases in general traffic delay at the junction and a large increase in queues which would impact on adjacent junctions across the network.
* A full replacement of all on site traffic signalling technology.
* Pedestrian Crossing widths increased to 4 metres across both the Gillygate and Bootham arms of the junction.

* Additional pedestrian crossing point introduced from the eastern corner of Gillygate to the western footway of St Leonards Place.

* Removal of the left turn lane from St Leonards Place reducing the highway into a single lane in both directions.

* Highway realigned to the East of Gillygate/St Leonards place to create a more straight ahead route for vehicles travelling from Gillygate into St Leonards Place and additional footway and pedestrian realm adjacent to Bootham Bar.

* Existing Pedestrian Island removed from St Leonards place and crossing realigned as a single stage crossing.
The consultation runs until 31st March.
Dropped kerbs
The Council is also consulting on a revised policy for approving dropped kerb – verge cross over plans.
Lack of on street parking space means that more residents will be likely to seek to make this change in the future. Installation of vehicle charging facilities as the internal combustion engine is phased out, may stimulate demand.
The new regulations are very proscriptive. They don't permit the relocation of tree or street furniture which may obstruct access to a driveway.
A programme of providing dropped kerbs for Council owned premises has stalled over recent years meaning that verges in several streets are now badly damaged.
The draft policy can be found by clicking here
The consultation closes on 28th April
Homeshare York
The Council is also consulting on the future of its Homeshare services
"Currently Homeshare matches a homeowner aged 55+ who has a spare room and could benefit from some support and/or companionship (the 'Householder') with a younger person who will provide 10 hours of support a week in exchange for accommodation (the 'Homesharer'). Homeshare is free to the Householder and the Homesharer pays £160 towards the running of the match as well as any contributions towards council tax increases. Homesharer's are fully vetted including two references and a DBS check. Matches are made based on both parties' personalities and interests and support is offered throughout the match. Matches are expected to last for a minimum of 6 months but can be ended early if a match is not working out. For more information you can visit our Homeshare webpage."
the Homeshare survey can be accessed here: https://www.surveymonkey.co.uk/r/2DQNWN8
The survey runs until 22nd March