Deaths and test results
131 (ONE HUNDRED AND THIRTY ONE) additional positive test results today bringing the total to 2686.
No additional York hospital deaths today.
Infection rate still increasing but seems to be stabilising at an average of around 80 new cases each day.
Rate per 100,000 population was 281 on Thursday. That is higher than the national rate.
Government has still not restarted publishing results at a neighbourhood level. There has been no explanation of the change in policy. These are the figures for the most recently published 7 day period to 13th October
York is now in the top 25 of affected areas in the country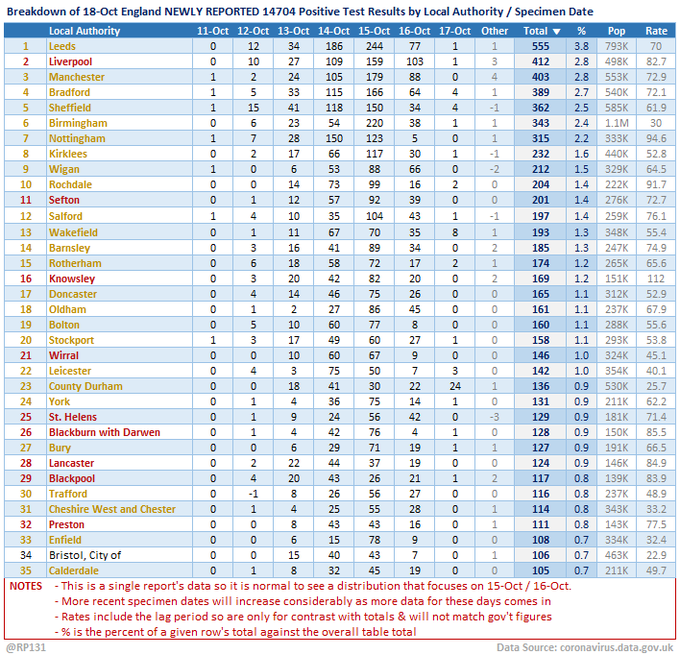 How the virus grew in York during last 6 weeks
There has been a lot of agonising in the City about how Coronavirus cases – and more recently deaths – have grown so quickly.
Some "blame" visitors, some the concentration of hospitality outlets while others choose to single out "students".
The authorities can't, or won't, reveal the linkages between "contacts" and the source and locations of infections, so the truth is that no one really knows how the infection chain developed so quickly.
It is true to say, though, that the increase in cases had begun before large numbers of students started arriving in the City in mid September.
The following maps (taken from government figures click) demonstrate that the Heslington area was largely free of the coronavirus in early September. It also had a relatively low population.
The arrival of large numbers of students does seem to have triggered a significant rise is cases. The neighbourhood is now one of the worst hit in the region.
When the government last published its neighbourhood figures, the Heslington/University/Fulford area had had 119 cases during the previous week. With over 1000 students and staff now understood to be self isolating, the confirmed case numbers may now have risen again.
Only a post pandemic public inquiry will shed a full light on the nature of the decisions about reopening Universities, which were made during the summer months, and who made them.
It does appear though that the authorities underestimated the threat of virus transmission outside the strict teaching and study environment.
In the meantime, we must hope that Tier 2 restrictions, coupled to voluntary strict quarantining arrangements, will produce a downturn in case numbers across the whole City.
Council report on COVID recovery plan
The Council's Executive are considering an update on their COVID recovery plan at a meeting on Thursday. It can be read by clicking here
This is the latest list of "can and cannot"
What the restrictions mean
In a bid to stem the rising number of COVID-19 cases in our area the new Government rules, which apply to everyone in York, mean that:
you must not meet socially with friends and family indoors, in any setting, unless you live with them or have formed a support bubble with them – this includes private homes, and any other indoor venues such as pubs and restaurants
you may continue to see friends and family you do not live with outside, including in a garden or other outdoor space – when you do so you must not meet in a group of more than 6 people
visiting indoor hospitality/leisure/retail settings is restricted to 1 household – 2 households must not meet in these settings, unless they are in a support bubble
you should only visit care homes in exceptional circumstances, see more information on visiting family and friends in care homes
you should only travel for essential reasons, you can continue to travel for work or to access education but should try to reduce the number of journeys you make where possible
you can go on holiday outside of the area, but you should only do this with people you live with, or have formed a support bubble with, and dependant on any local restrictions in the area you're visiting
you can play a team sport only when formally organised by a sports club or similar organisation, and sports-governing body guidance has been issued
wedding receptions and celebrations for up to 15 people are permitted in the form of a sit-down meal and in COVID secure settings, not in private dwellings
up to 30 people can attend a funeral (York Crematorium capacity is 18), and 15 people can attend a wake in a COVID secure setting, not in private dwellings
businesses and venues can continue to operate, in a COVID secure manner, other than businesses which remain closed by law
certain businesses selling food or drink on their premises are required to close between 10.00pm and 5.00am
serving food and drink will be restricted to table service only
businesses and venues selling food for consumption off their premises, can continue to do so after 10.00pm as long as this is through a delivery service, click-and-collect, or drive-thru
leisure and entertainment venues are required to close between 10.00pm to 5.00am
you should only use public transport for essential purposes, such as travelling to school or work
you should work from home wherever possible
exercise classes will only be permitted indoors if it is possible for people to avoid mixing with people they do not live with (or share a support bubble with
Be aware that:
schools, universities and places of worship remain open
you can meet people outside in parks or open spaces, following 'the rule of 6' and remembering 'hands. face, space'
exercise classes and organised sport can continue to take place outdoors