York could follow other cities like Milton Keynes and Cambridge by introducing a new 12-month trial to offer e-scooters and e-bikes at York Hospital and the University of York.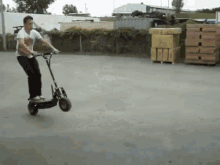 If approved by City of York Council, the preferred supplier will work alongisde York Hospital and the University of York to bring forward the trial later this month – ensuring safety, security and engagement with key groups are core to the trial being implemented.
The trial is part of efforts to support a 'green' restart of local travel and help mitigate the impact of reduced public transport capacity.
Funded and run in partnership with the Department of Transport (DfT), the trial could be rolled out in the city at York Hospital and the University of York.
There may be some scepticism about this project. Cycle hire schemes have not been successful in the past with some of the bikes ending up in the river.
We do have some doubts about the safety of electric scooters given the poor standards of road maintenance in parts of the City.
Still it may be worth a trial as long as taxpayers money is not put at risk.
A background report can be read by clicking here