Would include York with elections scheduled for 2022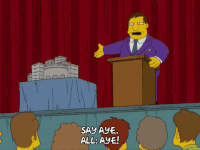 The York Council has revealed that it is in discussions with other local authorities in North Yorkshire about forming a "combined authority". Government policy is to devolve some funding to regions but only if they agree to be governed by an elected Mayor.
West Yorkshire has a "combined authority" while South Yorkshire has already elected its own Mayor.
It seems that York may have little choice in the matter.
Details can be found by clicking here.
Consultation is promised prior to the Councils executive meeting on 23rd July. That meeting will apparently detail the Councils expectations of any deal. Council media releases refer to the, ludicrously titled, "big conversation" as the preferred conduit for resident comments (although there are no questions about devolution on the "on line" survey).
While more funding for the region would be welcome, the prospect of power being put into one persons hands in such a large an area as North Yorkshire will give many a sinking felling.
York extracted itself from the North Yorkshire County Council in 1997 in the hope that a unitary authority would be more sensitive to local priorities. The results have been mixed, partly as a result of the highly volatile local political scene.
The only current post which is in any way similar is that of the Police and Crime Commissioner (now incorporating fire) which has been a lamentable failure. The post is hopelessly remote, is not accountable in any real way and, so far, has attracted poorly qualified candidates. The current post-holder seems to have little empathy for the problems of York.
The PCC powers would probably transfer to any new Mayor.
All in all, the obsession national politicians have with the American "city boss" model is profoundly depressing. Decisions taken in Northallerton (or Craven) are unlikely to be any more sensitive to York concerns than those currently determined in Whitehall.
But it does look like this is where things are heading.