Behind closed doors decision hits number 20 bus service.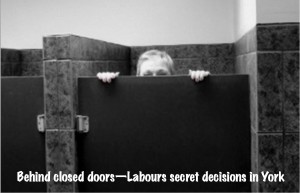 Two decisions were taken last week which affect bus services contracted by the Council with Arriva/Transdev in York.
There was no prior consultation with local Councillors or residents before the decisions were published.
The first change will see child fares on the 627/637/647 services increased so that they are "in line with those charged on other local bus services". The services provide links to Fulford, Archbishop Holgate and Manor schools (from Acomb).
Currently children using these routes pay £1 return. This would be doubled to £2 (saving the Council  £19,711)
 The increase will be implemented from 1st September 2015.
The Council has promised to " work with the contracting bus operator (Arriva) to explore opportunities for term pass discounts"
The number 20 bus service which links Tesco, Gale Lane and  Front Street with Poppleton, Wigginton and the University will run less frequently.
"Instead of an hourly 'clock-face' timetable, additional running time will be built in to the timetable meaning certain departures will be 70 or 75 minutes apart.
Most buses will run from Heslington Hall via University Road and Melrosegate (currently buses run from Heslington Hall via Field Lane, Osbaldwick village, Alcuin Avenue and Melrosegate). School-time journeys will still be routed via Osbaldwick as they carry a number of children from the village to and from Huntington and Joseph Rowntree schools".
All buses will divert to call at Vangarde Shopping Park (John Lewis etc), providing a new transport link for staff and shoppers. "Providing this link may allow CYC to use some of the Vangarde Section 106 developer funding to offset a proportion of the contract price".
The proposal will remove the section of route through Heslington East and Osbaldwick except for at school times. The Councils says that, "whilst some Osbaldwick resident are using the service (around 15 passengers per day on average), alternative bus links are available".