The York Council has tonight finally agreed with the support of 42 Councillors (with 3 abstentions) to repay the fines that it imposed unlawfully on motorists using Lendal Bridge during the restricted access trial.
Most of the Labour Councillors who had previously opposed repaying the fines executed a U turn of the type often witnessed on Museum Street during the trial period.
The proposal was tabled by Liberal Democrat Leader Keith Aspden
It is of course a decision which should have been taken in September 2013 when it became clear that the trial had failed.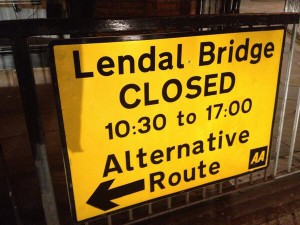 15 months later it will be too late for some.
Those who have in the interim died, those who have moved home, those who have changed  bank accounts as well as many who live abroad, may even now not find the fines are as easy to obtain as many would hope.
However it is an end to part of the saga with any inquiry, into the irregularities that took place, likely now to have to wait until after the elections in May.
Attention will now turn to the appeal relating to the imposition of fines for the extended hours restrictions on Coppergate.
If that appeal by the Council, against the traffic adjudicator ruling, fails then the repercussions for taxpayers and/or local service standards could be considerable.